Lead Sheets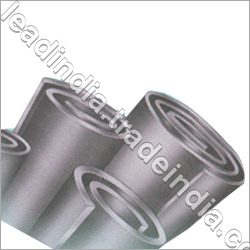 Lead Sheets
Product Description
Lead Sheets

Catering to our prosperous experience and knowledge in this industry, our firm is accredited amongst the topmost manufacturers and exporters of Lead Sheets. These sheets are manufactured by making use of optimum grade lead alloys and sophisticated technologies. To meet with the clients variegated requirements, we offer these sheets in divergent lengths, thicknesses and widths. Lead Sheets offered by us are highly preferred for manufacturing MS. Vessels, heat exchangers and reaction kettles for chemical and pharmaceutical industries.
Features:
High sturdiness
Smooth finish
Anti-corrosive texture
Further Details:
Fabricated by using superior quality pure lead or lead alloy, these Lead Sheets act as protective medium against x-ray and gamma-ray in chemical plants. In addition to that, the offered sheets are used for construction of roofing and flashing during building construction work, to fabricate shower pans and flooring. The Lead Sheets that are utilized in various chemical industries and building construction works, are fabricated by using best quality pure lead or 6% normal lead-antimonial alloy. The combination of calcium -lead and calcium-lead-tin alloys are also use to produce these metal sheets. Due to their special attribute like flexible nature, innovative design and long functional life, these sheets are appreciated for their water proof design. Around 75% of these metal sheets are used as flashing and weathering materials to protect building from the damaging effects of water. That is why, these sheets are used to construct bases of chimney stacks and substructures that can be noticed at the end of bridge or dam. The remaining 25 % of these metal sheets are utilized for designing roof of historic buildings and churches. These sheets are also suitable for vertical cladding of external walls. Due to their chemical proof design, the offered sheets are used to design the lining of chemical treatment baths, storage vessels and acid plants. Due to their exceptional insulation properties, high density level and light weight nature, these sheets are used as sound proofing materials for all sorts of engines.

Features

Flexible nature.

Long functional life.

Available in customized specifications.

Water resistance capacity.

Innovative design.

Light wight nature.

Excellent insulation properties.
Specifications
Thickness 0.5mm to 60mm

Length Up to 80 ft

Width Up to 6.5 ft
Lead Plates:

Thickness: up to 50mm
For thickness above 50mm write to us...

Lead Circles, Foils, Diaphragms As per customer's requirement upto 0.5mm thick.We also take up designing and fabrication of M.S. vessels, reaction kettles, heat exchangers, etc. Also LINING in lead, rubber, FRP and PVC, all under our roof or yours.
Contact Us
231/1 GIDC, Silvasa Road, Vapi, Gujarat, 396195, India
Phone :+918037405762